The Old Anchor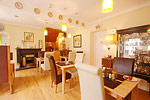 The Old Anchor is situated in the heart of Annascaul. The building is nearly 200 years old although the interiors have more recently been renovated. In addition to providing accommodation, there is also a licensed restaurant on the premises.
All bedrooms are ensuite with a shower; one of the bedrooms has a bath-tub. Guests are invited to relax in the lounge and help themselves to some tea or coffee. They will also find a selection of board games, a television and a wide variety of reading material.
The restaurant is beautifully decorated with a collection of antique porcelain and old Irish pottery. The menu features fresh seafood when in season as well as Kerry lamb and locally-sourced steaks.
Walkers on the Dingle Way will find plenty to do in Annascaul to warrant spending a second day in the area. There are a number of short loop walks around the surrounding mountains and valleys. The Old Anchor has a room for drying wet clothes and can also provide luggage transfers.
What Previous Guests Said...
As with most people we've met, you have been a prime example of Irish friendliness. Thank you for your kindness and hospitality!
Sabine Klöckner & Oliver Drögne, Köln. October 2008.