Castle Hostel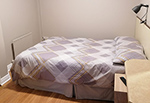 Location
Castle Hostel is a family-run hostel which is located in the centre of Tralee. It is close to both the train and bus station which are just a few minutes walk away. The start of the Dingle Way is also within ½ km from the hostel.
The dormitories in the hostel are quiet with just 4 beds in each and one larger room with 6 beds. There are also several double rooms suitable for couples looking to find budget accommodation with added privacy. All rooms have an en-suite with a shower.
After finishing the Dingle Way, hikers can take a deserved rest and celebrate with an extra day in Tralee. A swim in the Aquadome in the morning will help relax any stiff muscles and joints. The afternoon can then be spent at the Kerry County Museum in the afternoon. There are several fine restaurants in Tralee to begin the evening, to be followed up with a show at the Siamse T¡re which is the National Folk Theatre of Ireland.